Help Donate To Keep Pulzenaija Running
What Business Can I Start With 50000 Naira In Nigeria?
What Business Can I Start With 50000 Naira In Nigeria – So, you've been able to raise 50 thousand naira and you thought of What Business Can I Start With 50000 Naira In Nigeria? Really smart move. The next issue definitely would be which business idea or venture to invest the 50 thousand naira you have saved.
This is where the problem lies for most people, especially for persons who aren't really internet savvy or prefer offline businesses they can actually walk-in to. Not to worry, we have got you covered.
Table Of Content
What Business Can I Start With 50000 Naira In Nigeria
20 paying business you can start with less than 100k in Nigeria
Where To Get Loans In Nigeria 2019
With proper research on what up is obtainable currently in Nigeria, we have put together a list of the top 30 offline businesses in Nigeria which you can start-up with 50 thousand naira, at least. These businesses are profitable as long as proper work ethics are followed.
Work Ethics Or Requisites To Be Successful In These Or Any Business Venture(s):
Prioritize immediate needs
Intelligence
Making customer satisfaction utmost
What Business Can I Start With 50000 Naira In Nigeria?
Below List Will Answer your questions What Business Can I Start With 50000 Naira In Nigeria?
1. PHONE CHARGING BUSINESS.
It is no news that the electricity supply in most parts of Nigeria is unstable, erratic and poor at best.  In this digital age, everyone needs to get connected especially via their mobile phones.
Since the power supply is poor and the cost of petrol and gasoline is expensive, Nigerians with the immediate need to power their phones, pay phone charging vendors to charge their phones mostly at a fixed rate.
Things you need to start a phone charging business.
A electric generator. It costs about 30,000 naira on jumia.com.ng.
An electric socket board with multiple electric sockets to charge phones. This costs about 10,000 naira to make.
Petrol to fuel the generator. 20 litres of petrol costs 2,900 naira. It is advisable to store petrol in bulk by yourself for safety reasons.
Connecting wires and switchboard from the electric generator to the electric socket board. These cost about 4,000 naira.
A covered or shaded stall. This would protect you and the electric equipments from weather elements to prevent electrocution and damage. This could be wooden with a large umbrella. This would cost about 7,000 naira.
2. PHONE ACCESSORIES BUSINESS.
Selling phone accessories like phone casings, ear pieces, screen guards and other such phone accessories is certainly profitable since the market for phone accessories is always readily available.
3. FOOD VENDOR BUSINESS.
In most urban areas, workers, students and residents have the need to have meals sold by others for several reasons ranging from the need to satisfy a craving for a particular meal to being too busy to prepare their own meals.
Hygiene and good culinary skills are also important requirements for this    business.
4. FRUIT JUICE PRODUCTION AND SALES.
The demand for fruit juice which is organic is high, hence it is profitable with with a low-capital input. The demand is even higher in urban areas where fresh fruits are not readily available.
5. SOAP PRODUCTION.
There are many tutorials readily available for soap production. The demand is high since hygienic activities such as washing would always take place. It is important to locate customers who would patronize you.
6. FOOD STUFF RETAILING.
You could start with a bag of rice, beans and garri. Secure a store or stall and retail these food stuffs in cups.  For example, a cup of rice is sold at 100 naira. There are about 250 cups in a 50 kg bag of rice. This would be at least 25,000 naira when fully sold in cups. Since a bag of rice costs about 16,500, the profit margin is 8,500 per bag.
7. PALM OIL RETAILING.
Since the price of palm oil fluctuates seasonally, one could buy when it is cheaper in gallons of 50 litres and retail in lower quantities.
8. BARBEQUE BUSINESS.
The night life in some cities is very active and barbequed meat such as beef, chicken, goat meat and pork on local grills are profitable.
9. DOG BREEDING.
Dogs are bred for meat, as pets or for security in Nigeria. It is economical to start with 3 female puppies which cost about 20,000 naira to purchase. In less than a year, with proper feeding and care, they would be ready to mate.
10. PIG FARMING.
The demand for pork meat is high in Nigeria, especially in the southern part. The demand for protein food is also very high. A sow could lay as many as 8 piglets at a time and are very fertile. A young female piglet cost about 50,000 naira.
11. GOAT FARMING.
Goats grow really fast and the demand for goat meat is high in Nigeria. It is profitable especially if you chose a species with good meat producing qualities and quick maturity.
12. RABBIT FARMING.
Rabbits are livestock which breed fast and in litters. The demand for rabbit meat is also high.
13. COMPUTER BUSINESS CENTRE.
You need a small generator. A used laptop and a printer/scanner.
14. COMPUTER ACCESSORIES RETAIL.
Computer accessories such as  flash drives, memory cards, mice, USB cables are profitable and economical to start.
15. A good quality camera and a photo printer cost less than 100 thousand naira.
16. Laundry business. Especially when it is situated in urban areas, laundry business is profitable and economical to set-up.
17. VIDEO GAMING SHOPS.
Most Nigerians attach this business to barbing salons.
18. HAIRDRESSING AND HAIR STYLING BUSINESS.
You can purchase weaves and basic tools to get you started if you have the required skills.
19. Barbing salon.
20. Fashion accessories making and sales. Beads, earrings e.t.c
21. Video renting shops.
22. Maternity, baby, nursing mother wears.
23. Recharge card retail.
24. Data subscription retail.
25. Pastry making business.
26. Painting business.
27. Event planning and management.
28. Animal feed retail.
29. Broiler farming.
30. Snail farming.
Many people have been asking me top paying business the can start with low capital, after I wrote a post about 8 smart business to invest 100 thousand in nigeria.
Start with less than 100k in Nigeria
So I list down 20 paying business you can start with less than 100k in Nigeria.
1. Hair dressing/ Barbing Salon
2. Plantain chips production and sales
3. Restaurant services
4. Home tutor services
5. Tailoring/ fashion designing
6. Catering services
7. Day care services
8. Affiliate marketing
9. Poultry farming
10. Dog breeding and sales
11. Cat fish farming
12. Cassava Farming
13. Local garri processing & sales
14. Sales of mobile phone accessories
15. Football viewing centre
16. Web development & consultancy
17. Liquid soup and perfume production and sales
18. Beads and hat making
19. Computer and phone repairs services
20. Snail farming
So with this list you research more on the one that would be more comfortable for you to start in your area.
Where To Get Loans In Nigeria 2019
Where To Get Loans In Nigeria 2019, Places To Loan Money In Nigeria,Loan money without collateral
After Reading For What Business Can I Start With 50000 Naira In Nigeria? Also Read Where To Get Loans In Nigeria 2019, Cause In finance, a loan is the lending of money by one or more individuals, organizations, or other entities to other individuals, organizations etc. The recipient incurs a debt, and is usually liable to pay interest on that debt until it is repaid, and also to repay the principal amount borrowed. Wikipedia
Not every individual in Nigeria has what they can tender as collateral to access a loan. This is why loans without collateral are very important. Fortunately today, business owners and individuals can apply for quick online loans without putting up their assets as collateral.
Lack of capital is one of the major problems of doing business in Nigeria. With the new quick and easy online funding options, lenders evaluate creditworthiness and ability to pay back within a stipulated time frame and may approve an amount of loan based on that assessment.
In this post, we talked about the top 10 websites in Nigeria that offer quick loans to small businesses and individuals without collateral in Nigeria.
1. GROFIN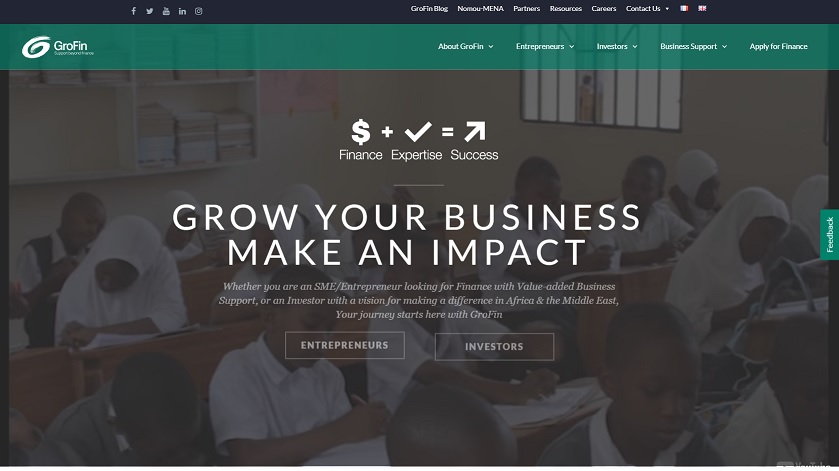 GroFin provides Small and Medium Enterprise (SME) finance/business loans across Africa & the Middle East. If you have investible numbers and you looking to expand your business, then GroFin is your best short.
With GroFin, businesses can access business loans between US$100,000 and US$1.5 million. If you think your business ticks the required checklist, then you can submit your online application here.
Also Read: Form For Lagos Business School 2019 is out – www.lbs.edu.ng
2. SMEDAN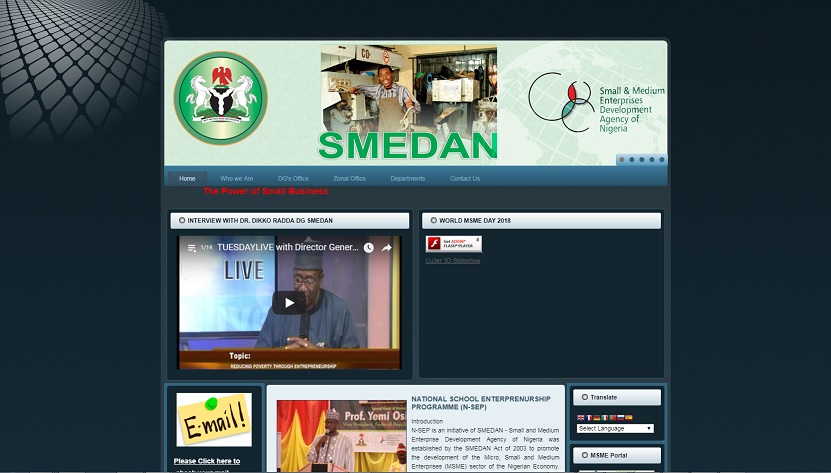 Last on the list is SMEDAN, a government-backed initiative to offers quick and easy business loans to Nigerian SME's businesses in need of financing. The core mission of the organization is to promote entrepreneurship among Nigerians and also provide capital to start the business.
Aside funding, SMEDAN also provide business owners with hands-on training and support to help them run their business. If you would like to apply, click here to access their online application portal.
3. LYDIA.CO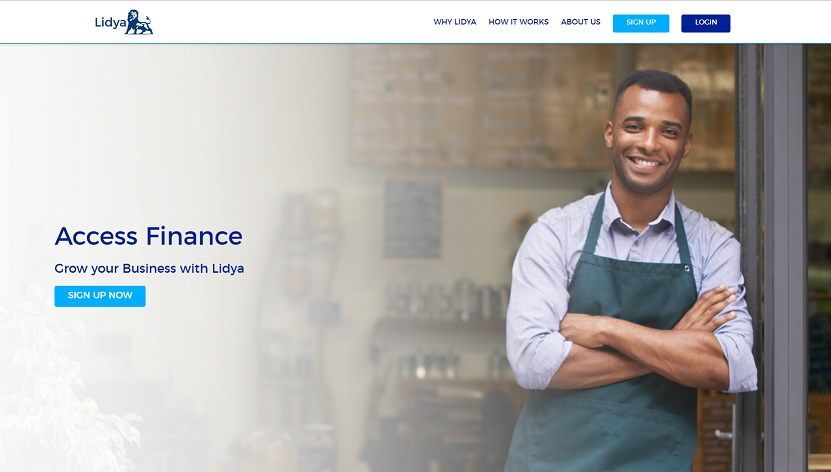 Lidya is an online platform that provides businesses access to finance. The platform offers small and medium-sized businesses with unsecured loans of between $500 and $15,000.
According to the founders, "Lidya uses technology and algorithms to assess the risk before granting the loans, it allows them to offer financial products to these customers at a low cost."
4. AELLA-CREDIT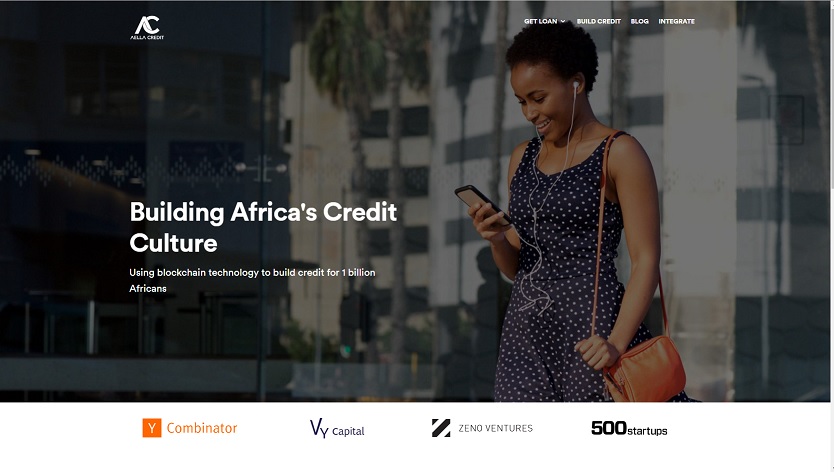 Aella Credit is building platforms that make it easier for individuals in Africa to gain access to financing. Mainly focused on employee lending and empowerment, the company was affiliated with three main credit bureau agencies in Nigeria to provide quick and affordable loans with no paperwork to its customers.
Aella Credit uses a  proprietary credit scoring algorithm to determine the creditworthiness of its users. The algorithm, which was built after the team gathered over five years of market data and analysis, processes an applicant's eligibility for a loan by considering social and demographic factors as well as their debt to income ratio.
5. ZEDVANCE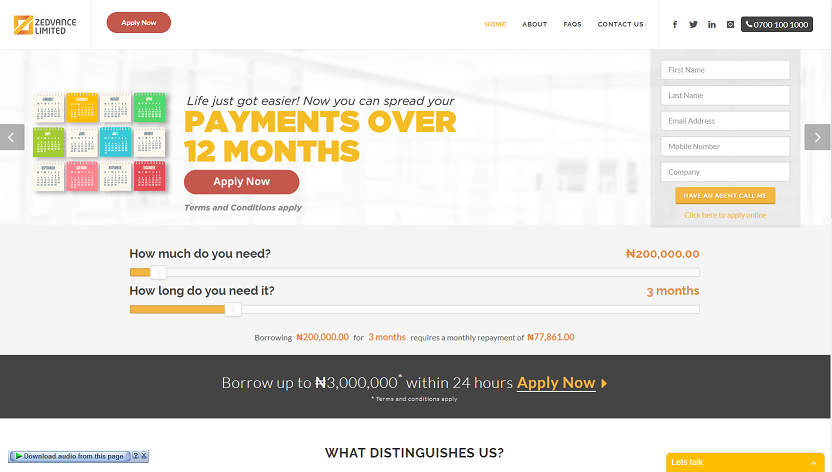 Zedvance is a consumer finance company committed to providing consumer credit to individuals. You can borrow up to 3 Million Naira in less than 24 hours.
The company specifically provide loans to salary earners but if you are a salary with a side business, you can pick up the deal to finance your business use.
Also Read: Ways to make online payment
6. PAYLATER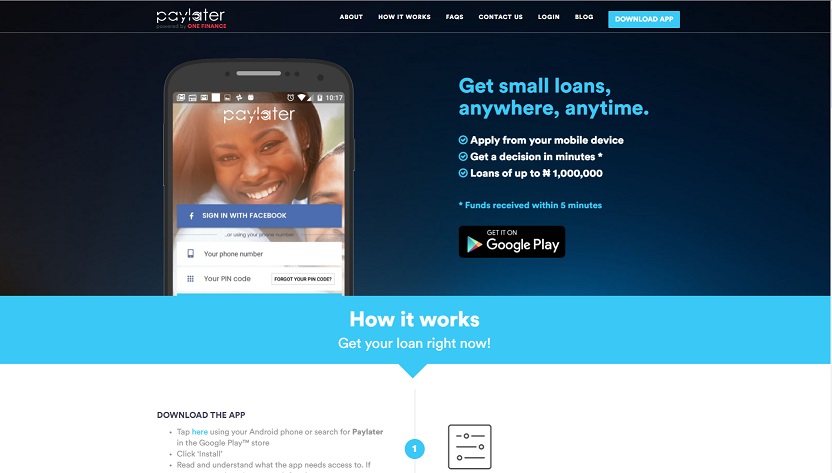 Paylater is an easy and entirely online lending platform that provides short-term loans to individuals and small businesses in Nigeria to help cover unexpected expenses or urgent cash needs.
With Paylater, you can access up to 500,000 Naira loan with no collateral. Once your application is approved, funds are typically received within 1 – 3 business days. Making on-time repayments can grant you access to higher credit limits for your next loan.
7. KIAKIA.CO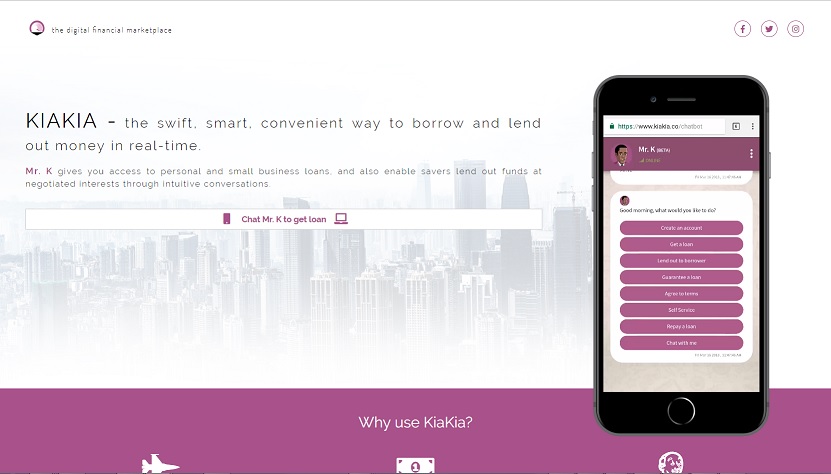 KiaKia is a digital money lender for Nigerian businesses. KiaKia utilizes psychometry, big-data, machine learning and digital forensics for its proprietary credit scoring and credit risk assessment algorithm to provide direct and peered personal and business loans to millions of individuals and SMEs without credit information.
The name KiaKia was derived from a Nigerian language which means "Fast Fast". According to them, the solution is very simple and fast, but highly effective and efficient.
8. ONE-FI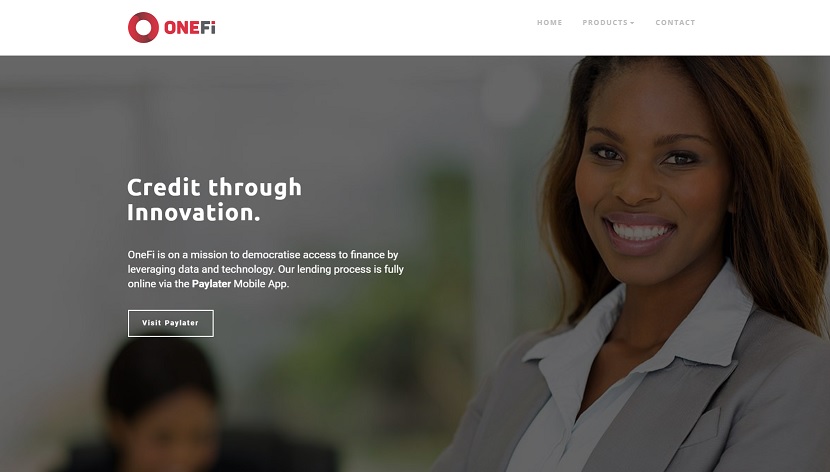 Formerly known as One Credit, OneFi is a credit facility company that offers short-term consumer loans to credit-worthy individuals with limited access to finance.
One-Fi loan repayment cycle is typically between 3 – 6 months, with loan amounts up to N200,000 or more.
Also Read: List Of Top 10 Most Successful Bloggers In Nigeria 2019
9. C24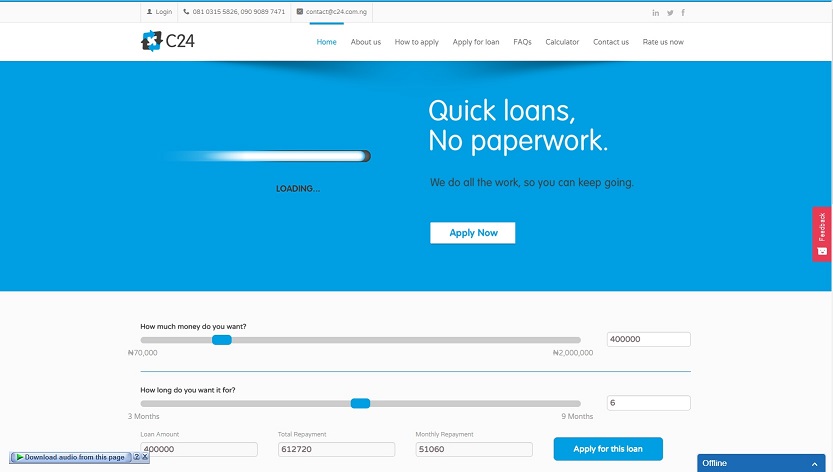 C24 Limited is a microfinance institution that was established with the sole mission to create an avenue for people to actualize opportunities around them, by helping them access cash loans when they need it.
C24 understands the need for quick cash loans and the necessity of quicker loan processing time. Their online loan process has been optimised to help applicants avoid the stress associated with other loan companies.
10. QUICKCHECK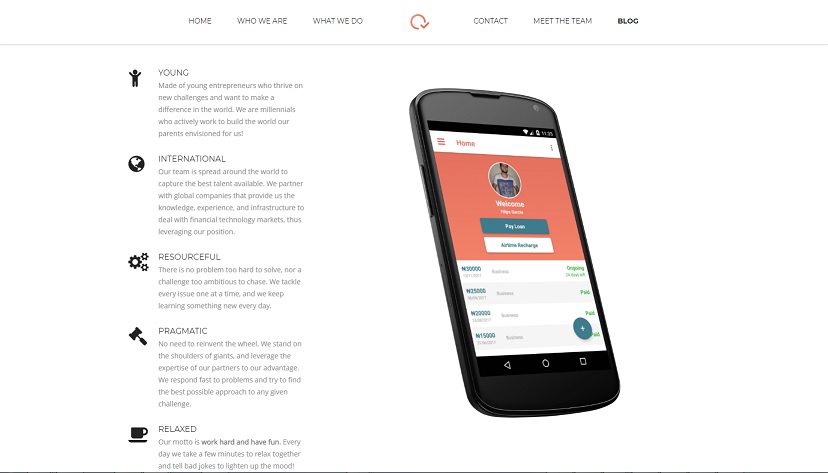 QuickCheck is a modern lending platform for individuals and small businesses. QuickCheck uses mobile technology to enable individuals and small businesses to gain access to financial credit.
According to the platform, users can access quick and hassle-free loans of up to 30,000 Naira without any collateral for a duration of either 15 or 30 days.
Because you start any of this business you should try and draw out a plan for your business, have a name because even if you want to start small you still have to build a standard for yourself because businesses like this always go far if you put your mind in it and do it well, and put down your budget for your business, because your budget will be the first to kick start your business.
Video Guide Business You Can Start With 50000 Naira In Nigeria.
What's your take on this? We believe this article was helpful, if yes, don't hesitate to share this information with your friends on Facebook, Twitter, Whatsapp and Google plus.
Conclusion
This Topic was able To Answer What Business Can I Start With 50000 Naira In Nigeria, 20 paying business you can start with less than 100k in Nigeria , Where To Get Loans In Nigeria 2019, Dont forget to learn more about the business you have chosen to venture into, because it is better to prepare for opportunity than for opportunity to come to you and you are not prepared it will be a very bad start for your business so try starting with your family members if possible to grow yourself if you aren't an expect in the field you decided to chose and invest in and if you are religious in nature don't forget to call your creator to help you grow you're business enjoy and keep visiting pulsenaija.
PN Team